Pencoyd Landing takes shape along Schuylkill
By Natalie Kostelni – Reporter, Philadelphia Business Journal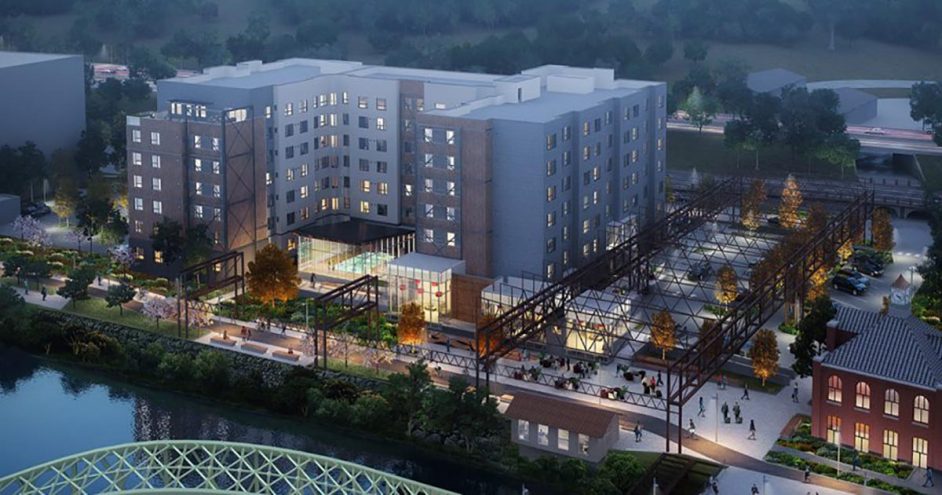 A new seven-story hotel that will carry the Marriott Residence Inn flag is jutting up from the Schuylkill Expressway in Bala Cynwyd and reshaping 11 acres that front the Schuylkill River.
The hotel is part of a bigger plan that Penn Real Estate Group Ltd. has to create a new destination off Righters Ferry Road. The hotel, which will have 123 rooms, will serve as the anchor to the $30 million project that will include a public plaza, a café that overlooks the river and a restaurant on the hotel's seventh floor that will have a terrace with expansive views and a room for private events. A second hotel is also in the plans but will come later.
Penn Real Estate's goal is to create a place where people, not just those from Philadelphia, but visitors from outside of the area, will want to visit. The project will connect to nearby trails and, with the Pencoyd Bridge, be linked to Manayunk, its shops and restaurants. Penn Real Estate owns the United Artists movie theater just on the other side of the bridge. The theater recently underwent more than $1 million renovations. The company also owns a retail center adjacent to the theater that will house another outpost of the Conshohocken Brewing Co. and a bike shop.
"We're trying to view the crystal ball of the future here," said Donna Galvin of Penn Real Estate about the development. "We're trying to create a sense of place."
Part of that involves finding ways to use the river, a natural resource other cities have taken advantage of but is more of an afterthought in Philadelphia.
The project will serve as a test for whether there is demand for hotel stays along the Schuylkill River and whether the addition of a restaurant, public plaza and links with nearby trails will activate a slice of the riverfront in this Montgomery County community.
The development is expected to be completed by the end of next summer.
Pencoyd Iron Works Inc. began operating a foundry in 1852 on the site Penn Real Estate is developing. Photos from that time show the river populated with rowboats and a ferry. That has prompted Penn Real Estate to explore whether a water taxi would be feasible between Pencoyd Landing and the Philadelphia Art Museum.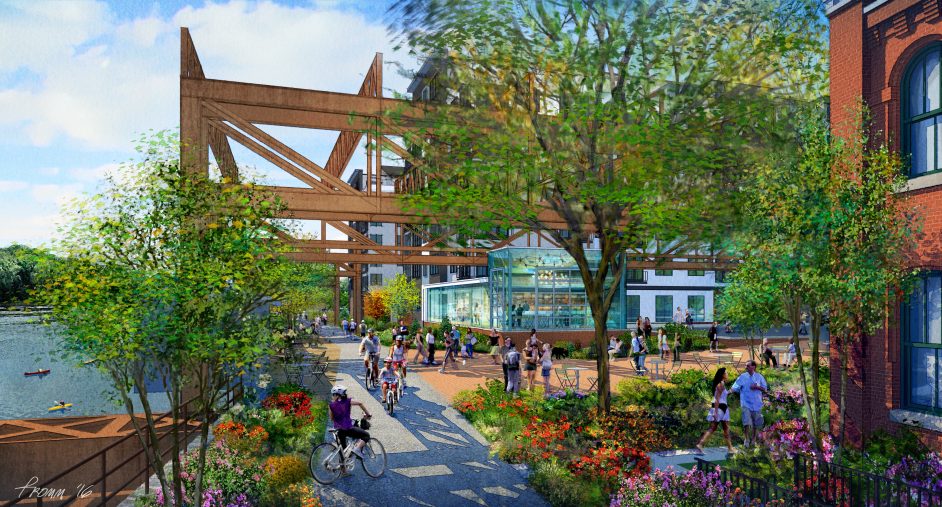 Pencoyd Iron Works stopped production in early 2017 and that closure led Penn Real Estate to finally move ahead with its plans to develop the 11 acres it had been assembling since 1999. The company maintains its offices in the building Pencoyd Iron Works used for its headquarters.
The design of the Residence Inn is contemporary but borrows heavily from the site's industrial past. Steel that was removed from an old warehouse that was taken down is incorporated into the structure. Legacy trusses and a crane hook have been retained and are also part of the design. The design looks more boutique than a run-of-the-mill hotel.
There is, as Galvin points out, no hidden side to the building since it's highly visible from the expressway, the river and nearby railroad. "It makes you think and rethink your design all of the time," Galvin said. "It creates a challenge but in the end the rewards will be so worth it."