Dockless e-bike share coming to Philly in 2019
Meir Rinde Published April 17, 2019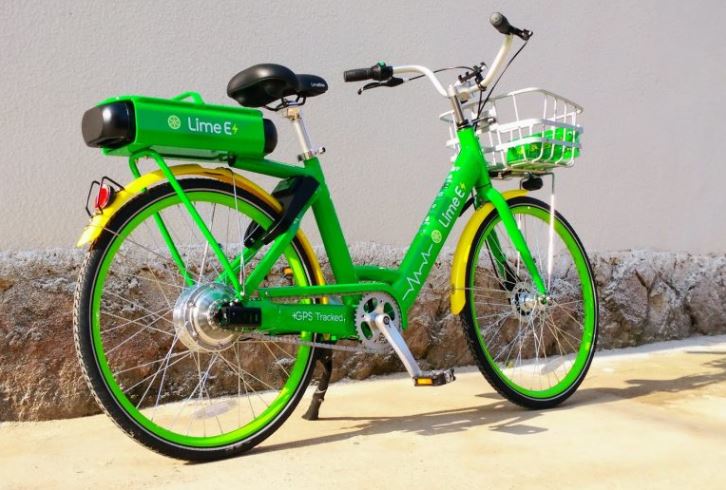 In cities around the world, cyclists can tap a smartphone to find and unlock an electric bike, zoom around town, and drop the bike off pretty much anywhere they want.
Soon, Philadelphians could be doing that too.
A year and a half after Philly officials first invited dockless bike-share companies to pitch the city, a test of concept is finally on the way. That test will come in the form of a neighborhood-based dockless e-bike-share pilot, said Aaron Ritz, transportation systems manager in the Office of Transportation, Infrastructure, and Sustainability (OTIS). Ritz said the dockless e-bike system should hit the streets in one as-of-yet undecided neighborhood before the end of the year.
Private companies such as Lime and Jump, an Uber subsidiary, will be invited to bid for permits to set up systems within the next few months, he said.
The temporary test program — slated to operate independently of the city-owned Indego bike share — will expand cycling options outside of Center City and offer new access to popular electrically powered pedal-assist bikes, he said. These bikes still require pedaling but allow riders to travel faster with less effort, with powered speeds of up to 17 mph.
"They are really fun to ride," Ritz said. "They also make things like hills easier, they make headwinds easier, and we found them to be really interesting to folks who are returning to cycling after a long absence, maybe older individuals looking to get back into something where they can get some fitness."
The pilot will focus on one neighborhood where the company will be required to maintain a steady supply of bikes. It will probably last a year.
Companies will find pilot
Unlike Indego which required philanthropic support and sponsorship from Independence Blue Cross, the pilot will be funded by the company or companies running it. In addition to capital costs, companies will pay licensing fees to the city and riders will pay to use the bikes. Bike share systems typically charge about $1 per hour for a standard ride or $2 per hour for an e-bike.
Baltimore recently extended a similar pilot program. The dockless bike share companies each pay a fee of  $15,000 and $1 per vehicle per day, according to Baltimore Fishbowl, a local news site. Lime and Bird won a first contract to operate the Baltimore pilot and the recent extension brought in Spin Scooters and Jump bikes.
Philly's pilot will not include electric scooters, which are the latest fad in the shared mobility industry but illegal in Pennsylvania. State legislators have proposed changing the law so cities can license scooter-share programs, but OTIS has called for a one-year moratorium over safety concerns.
City Council passed a bill regulating dockless bikes last year.
Ritz said the city doesn't yet have a public short list of neighborhoods identified as possibilities for the bike-share pilot. OTIS will release more information about the program at the end of April or in early May and take bids later this year. In the meantime the agency has set up an online survey to gauge residents' interest in dockless bike share and help officials monitor the pilot's success after it is launched.
The new program can't come soon enough for bike advocates in areas outside of central Philadelphia and University City, where most of the Indego stations are located. Kathleen Hogan, a Chestnut Hill resident and former executive director of the East Falls Development Corporation, said she's been working with local businesses, community groups and colleges for almost two years to bring bike share to Northwest Philadelphia.
"There's a real strong desire to be more connected to the city," Hogan said. "The communities in the Northwest are very independent, they have their own beautiful downtown areas and business corridors, but there's a strong sense of wanting to be more of an attractive area for people that live in Center City or are visiting Center City. That's been discussed a lot at the meetings that I've attended."
Hogan said a local developer looked into financing neighborhood bike share privately but was put off by the cost and the desire to be part of a larger network. Maintaining a single Indego dock with eight to 10 bikes would cost $15,000 a year, and a useful system would require at least a few docks, she said. Hogan is a consultant for Penn Real Estate Group, which is planning a large mixed-used development next to the Pencoyd Bridge in Manayunk and wants to see bike share come to the neighborhood.
Unlike some other cities, Philadelphia has taken a careful, deliberate approach to shared mobility, watching how other places manage the convulsions of the growing industry, Ritz said.
Big Chinese e-commerce companies invested billions in programs that flooded cities with free or low-cost bicycles, some of which ended up in the bottoms of rivers or in huge scrap piles. Last May, the Chinese startup launched a grant-funded dockless bike-share pilot in Camden, only to abruptly end it after just two months.
When OTIS requested information about dockless bike-share programs a year ago, it heard from 15 companies. As the industry has contracted and pivoted toward scooters, Ritz is now aware of only four or five that are likely to propose pilots, including Lime, Jump, Gotcha Bike, Pace and VeoRide, he said.
Ritz said OTIS is also planning to expand the existing Indego docked-bike program, with details to be announced later this month. The city will likely augment the all-manual fleet with e-bikes, following a successful test in November that temporarily added 10 of the power-boosted two-wheelers. The e-bikes were extremely popular, getting an average of seven rides per day compared to the two rides per day that is typical for Indego's traditional pedal bicycles, according to OTIS.
The city could also announce more Indego docking stations in new locations. The system currently has 121 stations and the city wants to add 25 more per year until it has more than 250 stations, according to an Indego business plan update released in October. The city is extending its contract with Bicycle Transit Systems, the company that operates Indego, through June 2020, Ritz said.
The business plan notes that fewer than half of Philadelphians live within a quarter mile of a bike share station, and suggests that new docks could be placed in dense, high-demand areas in Center City or in underserved moderate-demand parts of South, West and lower North Philadelphia.
A data analysis suggests that bike share could possibly work in several other outlying neighborhoods, but the experiences of other cities show that contiguous systems work best, according to the report. "Other cities have struggled to generate suitable ridership from small clusters of stations outside biking distance from one another," the business plan says.
Outlying areas identified as showing a "moderate propensity" for bike share include Olney, Oak Lane, Mount Airy, Germantown, Manayunk, East Falls, Lawndale and Fox Chase.