Big plans for an 11-acre parcel on the Schuylkill River in Bala Cynwyd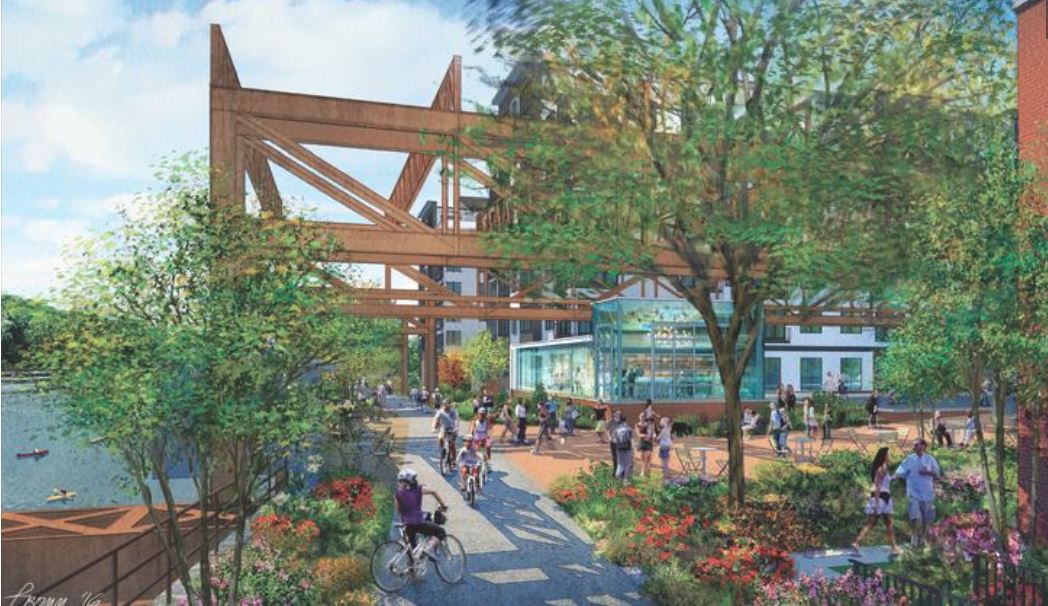 By Natalie Kostelni – Reporter, Philadelphia Business Journal
Apr 14, 2017, 7:59am
For the last 17 years, Sean McCloskey has been patiently plotting a more than $50 million mixed-use development on an 11-acre site along the banks of the Schuylkill River where the former Pencoyd Iron Works Inc. plant operated. Finally, he is now the closest he has ever been to getting his project out of the ground.
McCloskey's Penn Real Estate Group anticipates breaking ground later this year on the first phase of Pencoyd Landing, which will include a public square, two hotels, a restaurant as well as an already renovated building that once served as Pencoyd's headquarters but is now occupied by the real estate company McCloskey runs with business partner Donna Glavin. The first part of the project to be constructed is a 123-room Marriott Residence Inn. The other hotel will follow at some point and be about the same size but more upscale. McCloskey said he has lined up an operator for it but declined to disclose who it is.
Between 1999 and now, Penn Real Estate has been assembling parcels, conducting environmental remediation, installing infrastructure such as stormwater management systems and retaining walls as part of its effort to bring Pencoyd Landing to fruition. "Our objective is to encourage people to visit the river not only from Philadelphia but from around the world," McCloskey said. "We are re-imagining and repurposing this part of the waterfront for the first time since 1852."
That's when Pencoyd Iron Works began production along the Schuylkill River and one of its last remaining operations, the fabrication of rebar, fully ceased operations last month. That meant Penn Real Estate could finally move forward with its plans.
Two hotels next to each other on the Lower Merion side of the Schuylkill River may seem a little preposterous until McCloskey makes his case. For one, he believes there's demand for additional rooms in that area and at that particular spot, where Righters Ferry Road dead ends into the river, will provide an experience visitors can't get elsewhere.
"This is a very special location," he said. "The riverfront here, most people don't even know it's here and it's under-appreciated. It's where the city and the suburbs meet."
As McCloskey lays out his vision, he begins to tick off $500 million in new projects in various stages within a mile radius of the proposed Pencoyd Landing and underscores the bet other developers are making on both the Manayunk and Bala Cynwyd sides of the river. Next to McCloskey's project is O'Neill Properties Group's Royal Athena, an apartment complex with 275 units that could eventually total 600 at build out. Other examples include the $46 million Venice Island Performing Arts Center, Post Brothers' Presidential City redevelopment, Realen Properties new 156-unit apartment complex called the Isle and the Wilde Yarns Factory lofts. McCloskey's site already includes a popular athletic club called AFC Fitness and that will remain intact.
Other changes are afoot. The recently reopened Pencoyd Bridge is a link that is key to what McCloskey is trying to create. The bridge is located steps away form his project and, in just a short walk, puts a person either living at the Royal Athena, visiting one of McClosky's hotels or using the nearby Cynwyd Heritage Trail right into Manayunk.
Realizing the potential opportunities the bridge provides, Penn Real Estate recently bought the United Artists movie theater and its associated shopping center from Bart Blatstein's Tower Investments for $5.6 million. It was one of Blatstein's first projects and was built more than 20 years ago. "Time to transition it," Blatstein said about the sale.
The theater will get more than $1 million in renovations. New plush seating will halve its 1,500 seats and new food and beverage offerings will be provided. McCloskey is hoping the state upgrades a Fine Wine and Good Spirits store and there's room for a new restaurant.
"The river has been ready for development for a long time, but our highways have choked our rivers here," he said. "What we're looking to do is coalesce all of these interesting pieces together to create a dynamic waterfront."